When a man gets on the rollercoaster of life. He just keeps going. The demands of life keep coming at him and he feels the obligation to respond to all of them. Work demands, family responsibilities and personal commitments keep arising and he almost can't stop running.
The truth is most times, we are not as busy as we think we are. The major issue is the inability to pinpoint the things that matter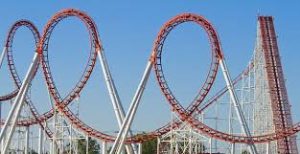 . As a result, we are so confused and want to respond to a lot of things at the same time. Of course we must multitask if we will ever reach our full potentials but not knowing where to draw the line is befriending inefficiency. A man on a rollercoaster ends up doing none of his multiple responsibilities well. When criticised about his inefficiency, he is frustrated and gives in to anger because he feels no one is appreciating how hard he is working. Really no one is appreciating him because they can't see the fruit of what he thinks he is doing.
Eventually, his relationships begin to fall apart. His family and friends fizzle gradually from his attention. His health starts deteroriating because he is anxious and burdening his body. His self esteem drops as he no longer believes in his ability to keep his life together. Eventually he spends more time worrying and complaining about how much he has to do and he is paralysed spiritually, mentally, physically and emotionally.
The picture painted above can be normal for an unbeliever but it is an abberation for a child of God. However a lot of Christians are caught up in the mess running endlessly. This is not the will of God. Grace makes our lives easy. When a Christian is on a rollercoaster, he is either not appropriating the grace of God. Whatever the grace of God is not sufficient for in your life is not meant for you.
If you are on a rollercoaster and you feeling chocked by the massive responsibilities you are saddled with, you need to take a break. Get off the track. Don't keep going. Just stop. Make a list of your responsibilities and ascertain those that have a direct bearing on the purpose of God for you. Knock out the distractions no matter how much u feel like doing them. If it doesn't affect your purpose, happiness and relationships positively, just drop it. Focus on the important things and stop burning out. Take advantage of the grace of God.